MMH COMFORT VILLAGE
- for those who want a little more
Living in a COMFORT VILLAGE is something very special. Many live today alone, and one might say that loneliness is perhaps becoming a major challenge for many people. MMH COMFORT is doing something about it ... with the MMH COMFORT project we propose to create the basis for a life taking a starting point for those who are now possibly 50+ ... it could all start as maybe a micro holiday village ... and gradually it becomes a form of senior or "olle-kolle" VILLAGE as we call it in Danish (olle = older & kolle = collective / community), where you live the good life with others who also wants to be together in informal, stimulating and perhaps slightly unconventional ways.
MMH COMFORT is not just a collection of houses and a community house, it is the framework for opportunities to live better with others without being forced into a community.
We believe there will be more and more who wants to live together without having to be social all the time ... We think that many want the best of "a socially active life", but not necessarily all that comes with living in a community... like maybe not agreeing about who does the dishes etc ... And therefore we create frameworks - not just physical, but even the more organizational we try to help designing because we believe that the good life can be really good if we dare to utilize some of all the new technology that can be hugely helpful if used and implimented the right way.
COMFORT is a basic model village of at least eleven houses and a community house.
The MMH COMFORT we envision in this example consists of 16 houses. Any COMFORT project comes with a community house that we call MMH COM.
MMH COM in this example consists of six MMH units / houses put together to form the place where residents of MMH COMFORT can meet and do various activities together.
Our vision is also that when we start to make bigger versions of this concept then possibly it could be combined with another concept which MOMENTUM+ is developing – its called FRISK – and it's a kind of "health house / center" – a place where you will find doctors, various therapists who does from massage to acupuncture, nutritional support etc. but also a place where you can train and in certain cases these centers also have swimmingpools etc. – basically a place where everything is catered for when it comes to your health – you can read more about FRISK by clicking here.
MMH COMFORT HOUSES
MMH COMFORT – the whole MMH concept is based on as much flexibility as possible – the houses can be moved if needed, the walls can be changed, the houses put together or moved apart etc. This means of course that you can change your house according to your needs to a much larger extend than what you can in a "normal" house or flat. Naturally there are limitations and a lot depends on the actual set-up.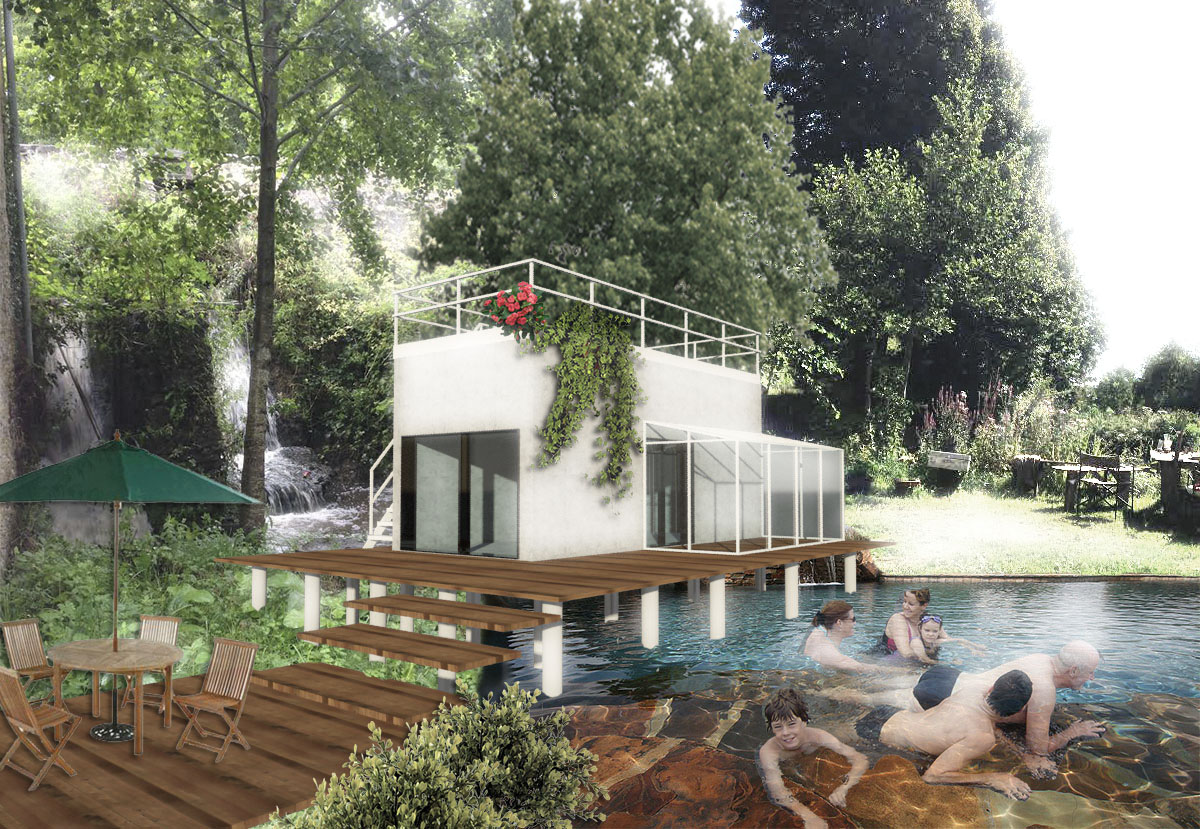 And when it comes to the MICRO MACRO HABITAT COMMUNITY HOUSE there are a whole range of activities to be found such as:
"The SPA-lounge"
"The SPAlounge" – The MMH spa .. It's great to swim together .. Go in the sauna or steam bath .. Get a massage or give a massage... go into the hottub and be gentle to yourself being cleansed using the most delicious essential oils and hot water .. knowing that the water used is the softest rainwater, which is even reused again before it is dispensed in the greenhouses or the gardens – or used in the toilets.
The small spa in MMH COMFORT is really replacing the big luxury bathroom in your own house... In MMH COMFORT you can book the spa for yourself or your family or you can come when it is open to everyone. It is up to the residents to agree on how to use the spa.
"The WASH-salon"
"The WASH salon" – a different laundry ... And why not wash your clothes while you're in the spa .. That's also possible. The laundry in MMH is not just a place for washing machines and where you wash. We call it "The WASH salon" ... A place where you meet and enjoy yourself while taking a cup of tea or coffee or even taking a bath in the spa which is next to the "The WASH salon".